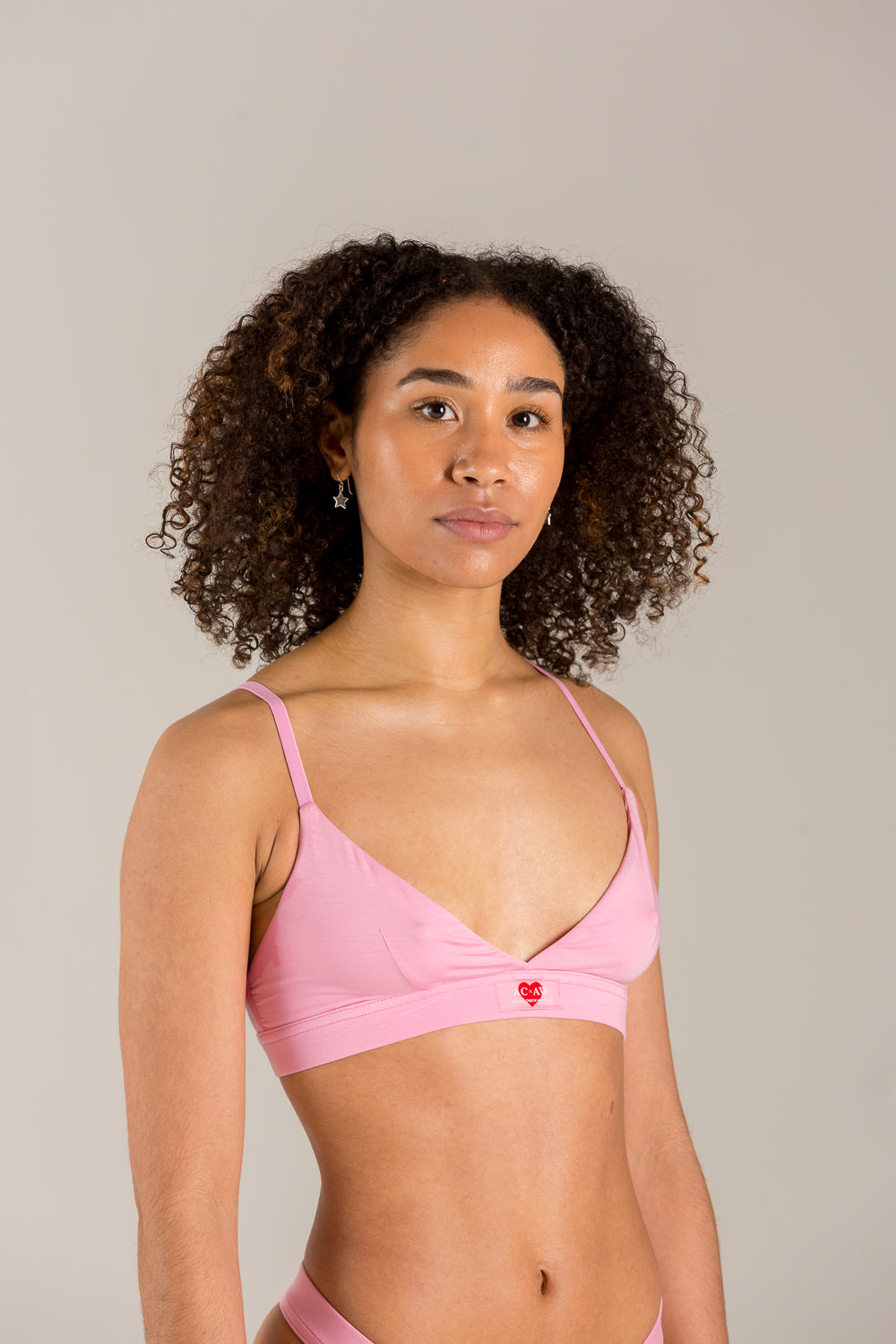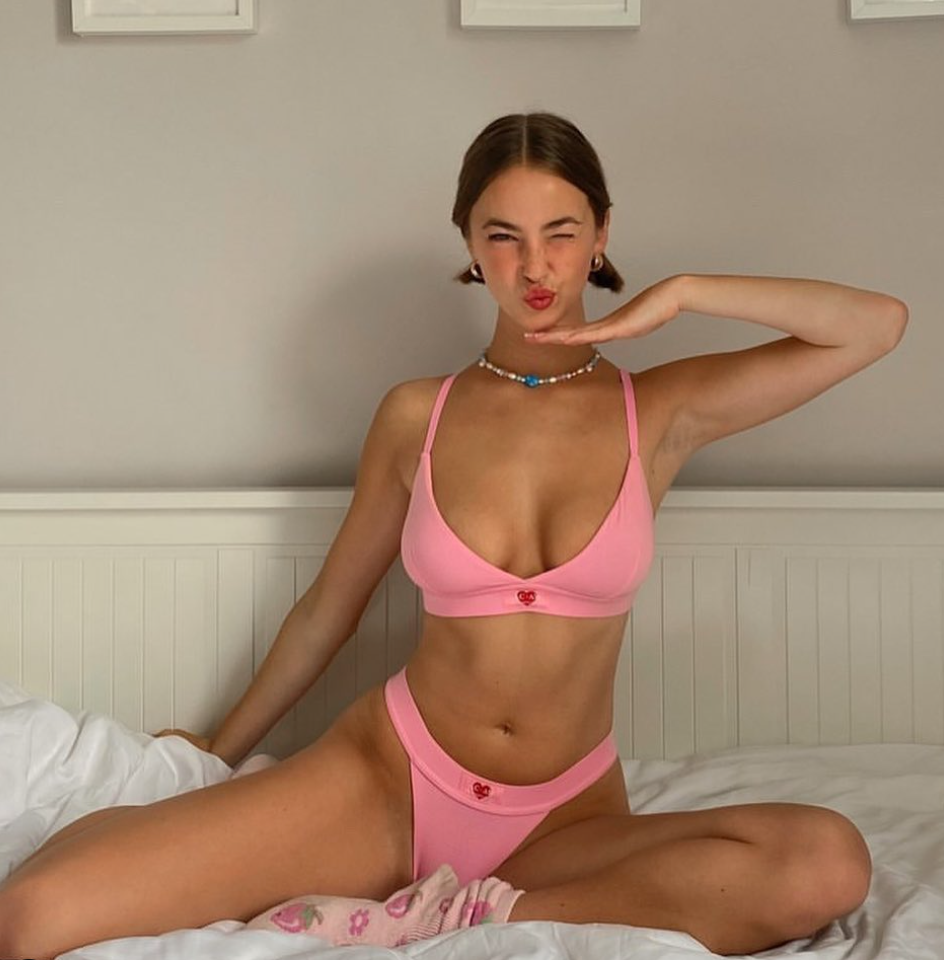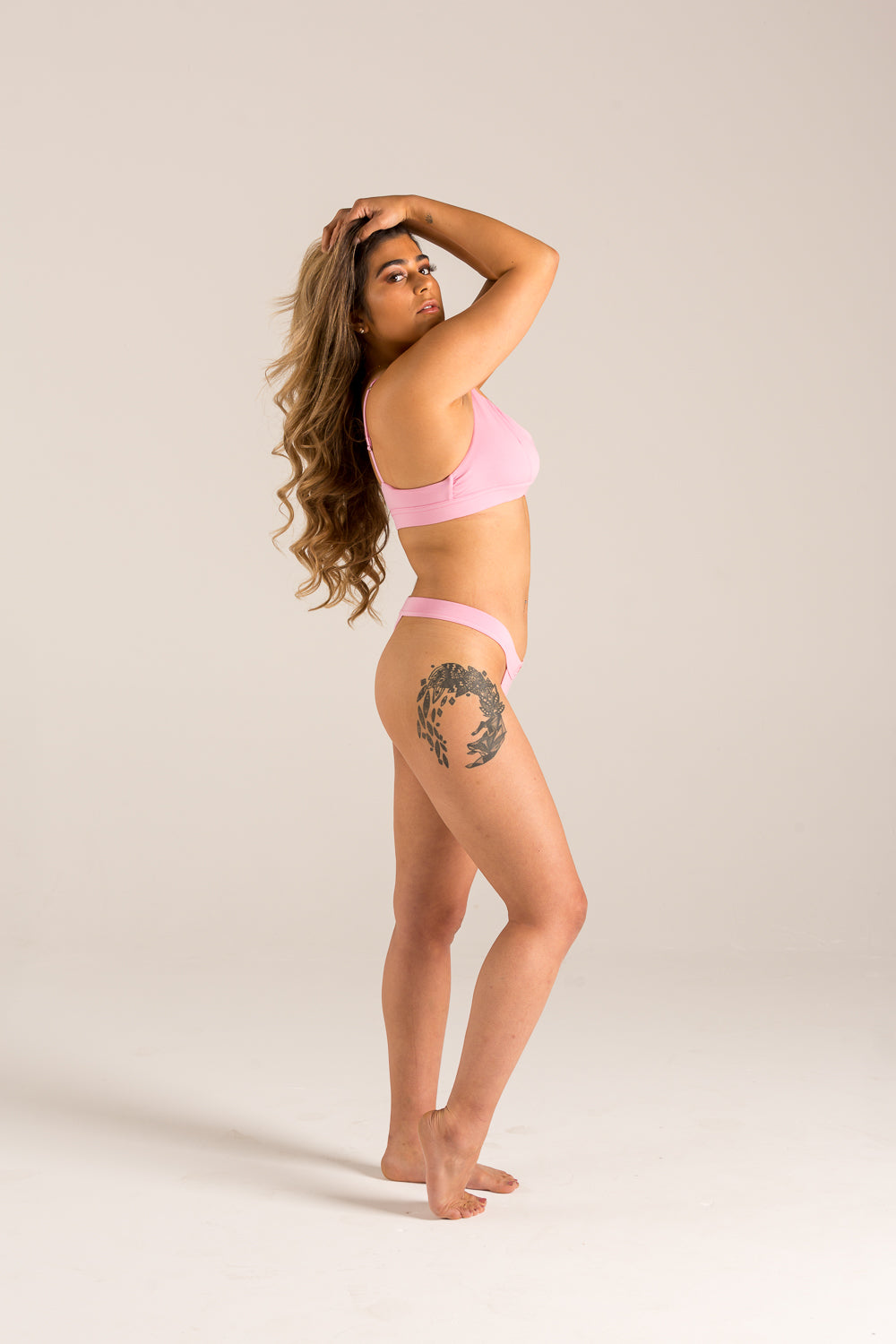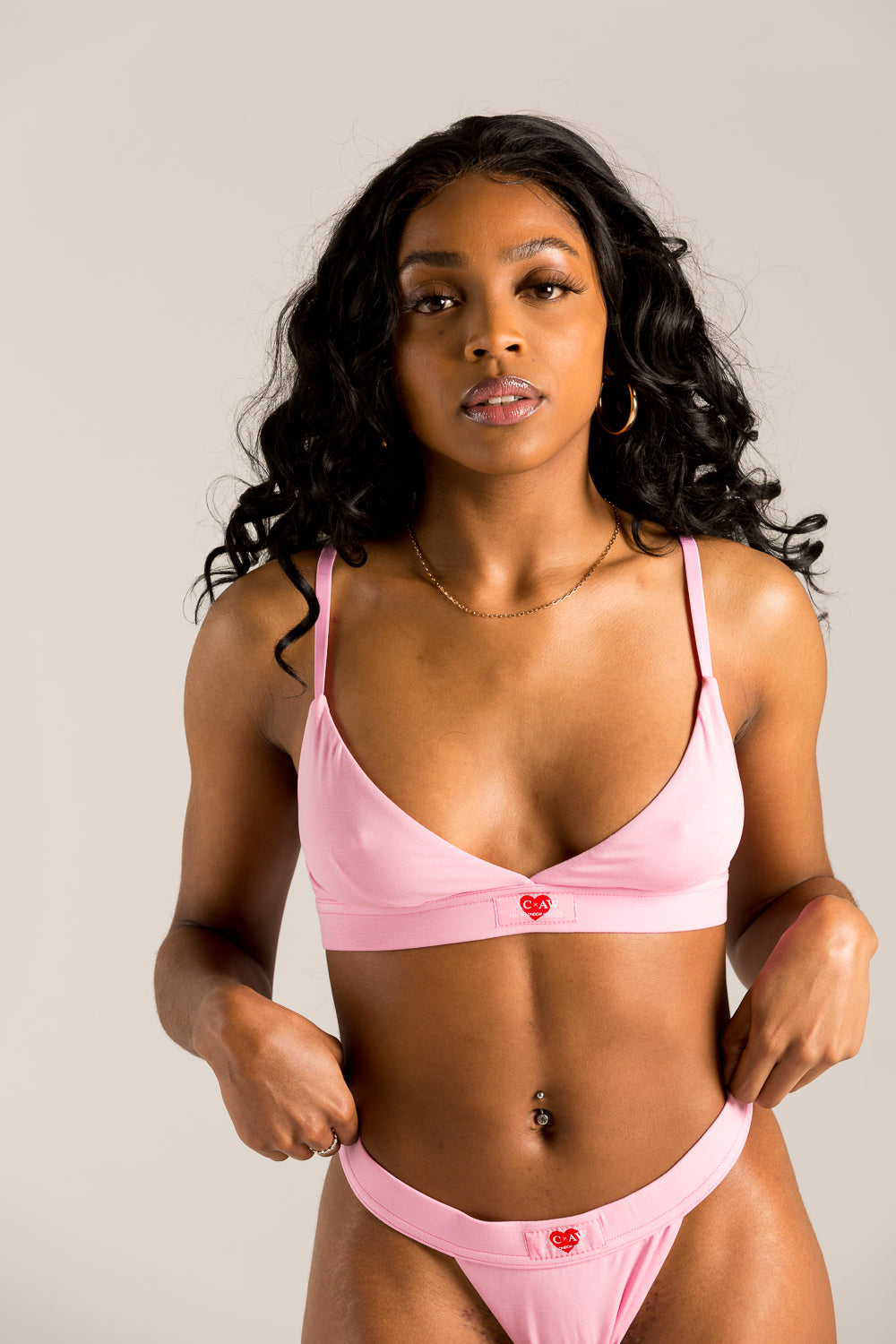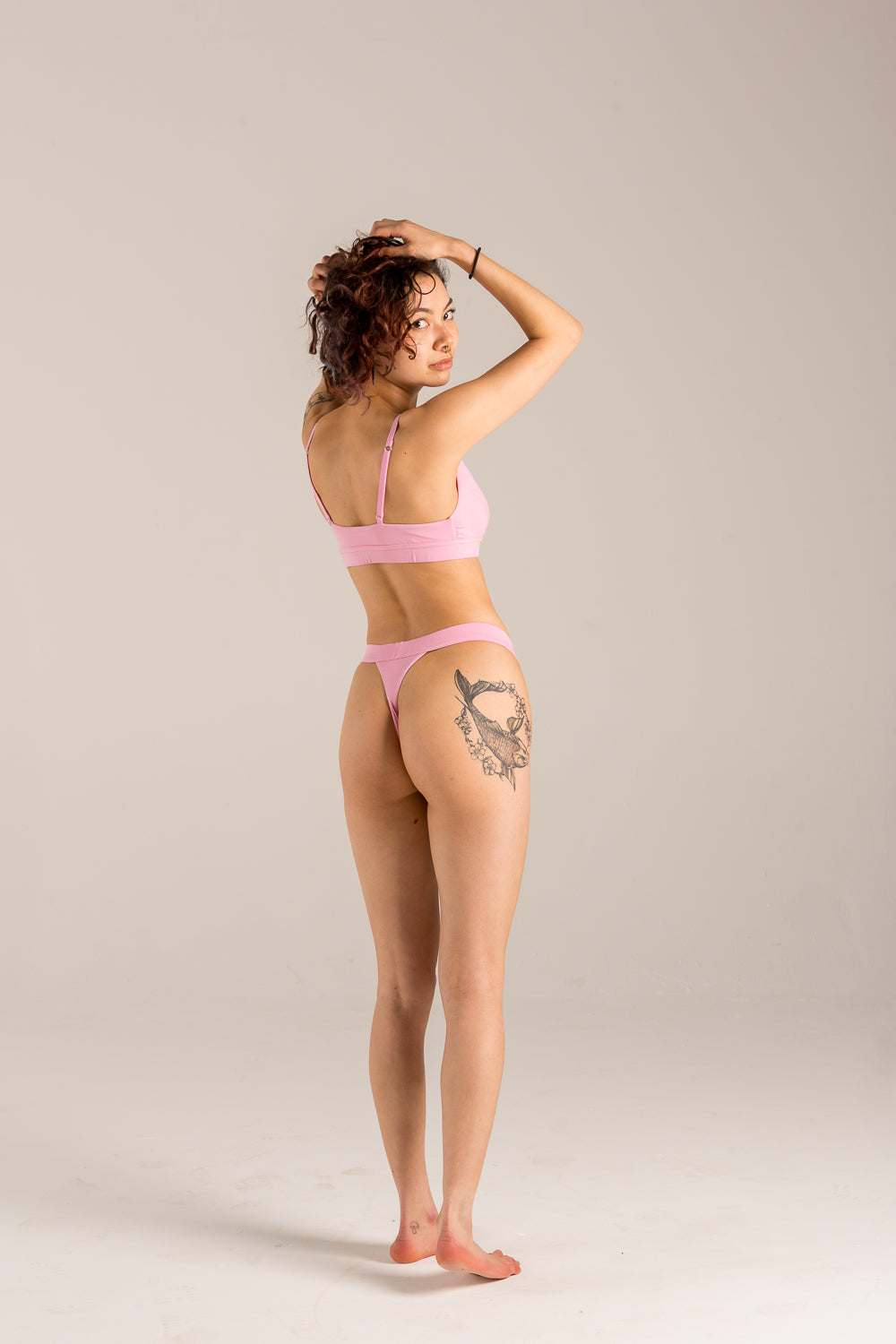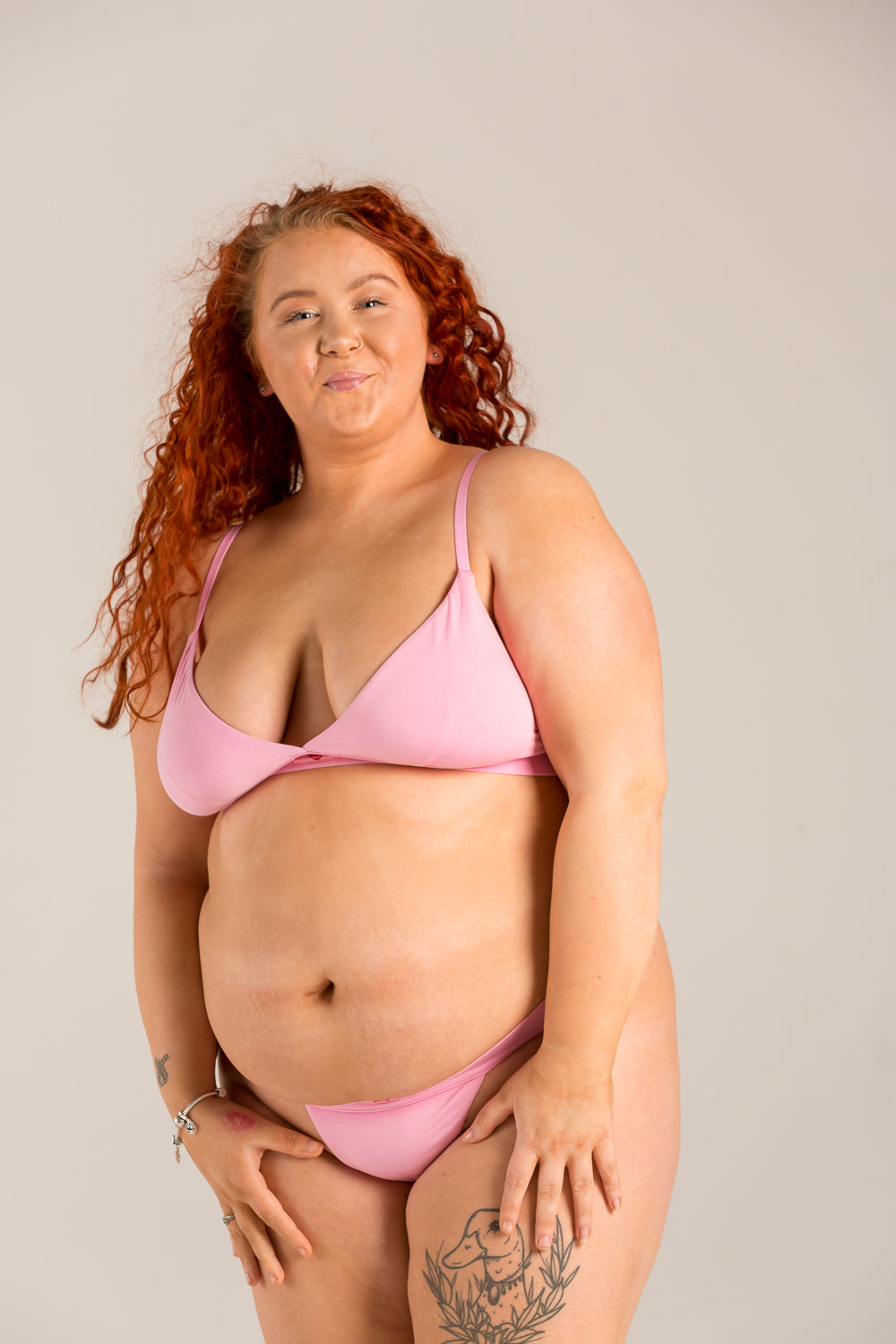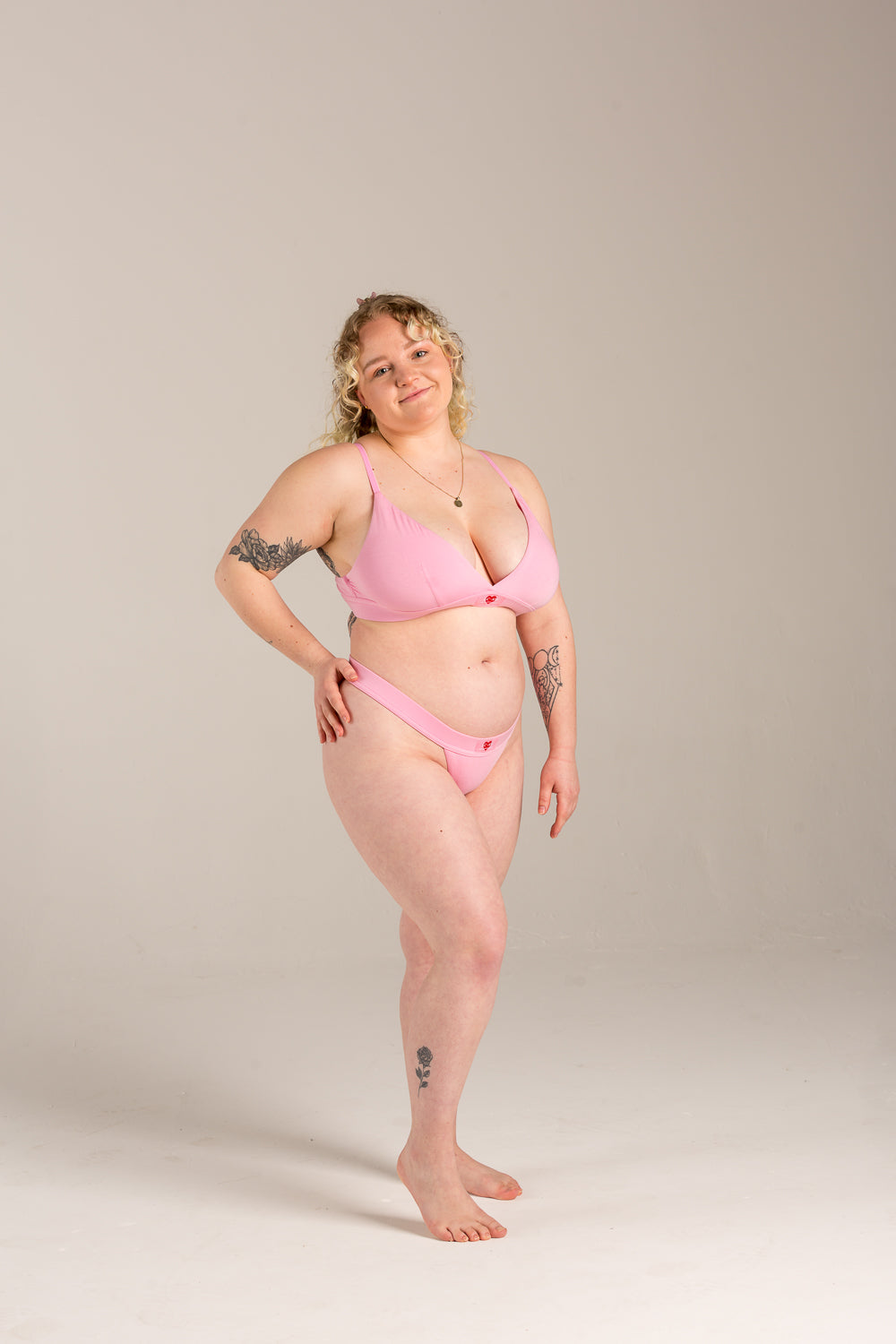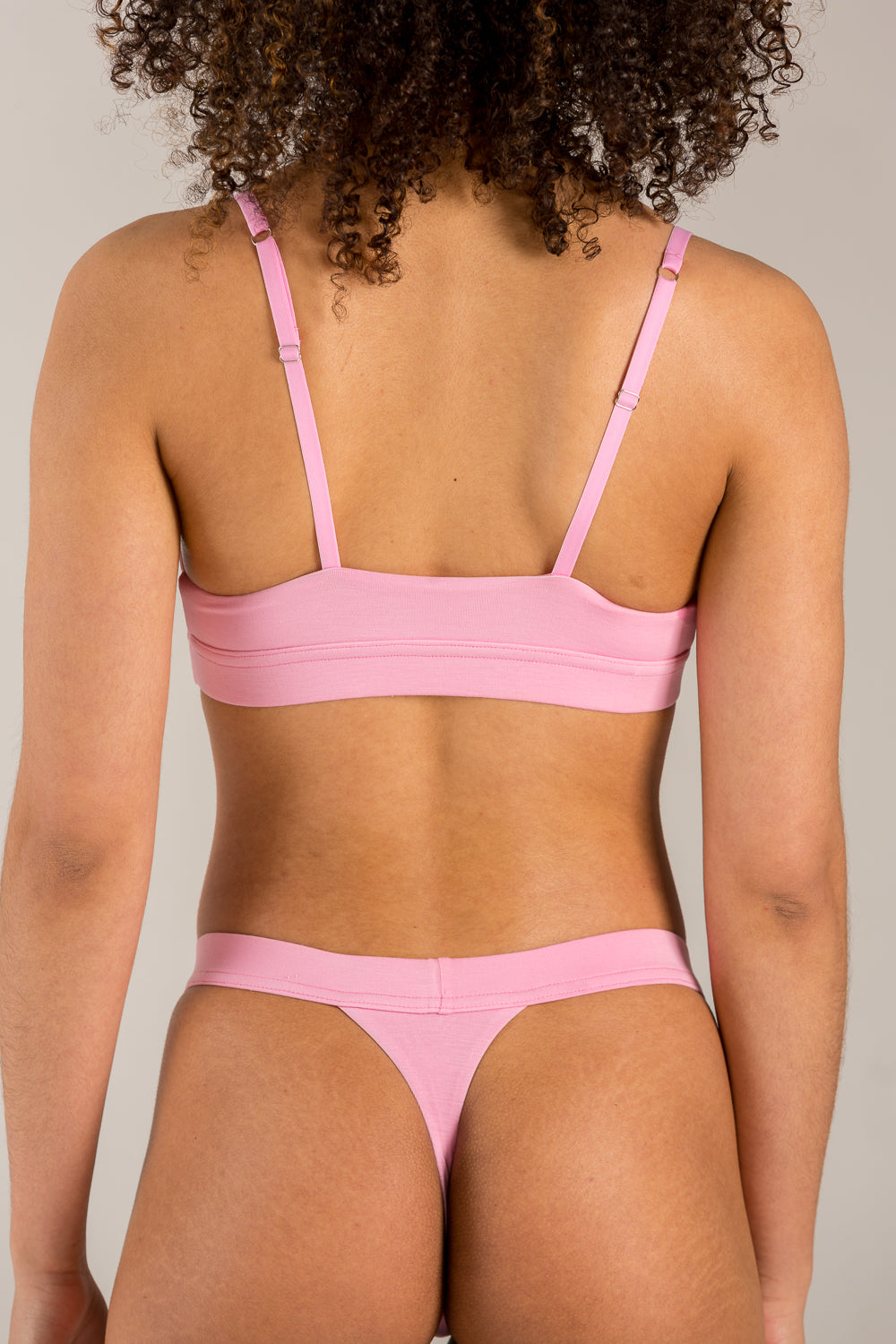 AC x AW Pink Triangle Bra
$28.00
Regular price
$39.00
Subscription • Save
Description
Size Guide
Care & Composition
In collaboration with Amelia Windsor for Alexander Clementine. Designed and Made in London, with love.
A timeless bra, from our own Icelandic seaweed and Austrian eucalyptus fabric.  Designed by Amelia in a new energetic baby pink. Our AC x AW bra is adorned with a brand new, exclusive heart-shaped; 'Made in London with Love' label.

This bra has no wire or padding and our stretchy under band is wrapped in our incredibly soft seaweed fabric to enhance comfort whilst maintaining the highest level of support for the wearer. 

As part of this collaboration, a Mangrove Tree will be planted in Amelia's name for every purchase made.
Pair with the matching thong to complete the exclusive AC x AW set.
TRIANGLE BRA SIZE GUIDE
S: UK 4 - 8
M: UK 10 - 12
L: UK 14-16
AC x AW SIZE GUIDE
XS: UK 4-8
S/M: UK 10-12
M/L: UK 14-16
XL: UK 18-20
XXL: UK 22-24
AC THONG SIZE GUIDE
XS: UK 4 - 8
S/M: UK 10 -14
M/L: UK 14-18
BRALETTE AND BRIEF GUIDE
XS: UK 4-6
S/M: UK 8-1
M/L: UK 12-14
XL: UK 16-18
*These charts are indicative only, and due to fabric stretch and production tolerances, variation should be expected. The inherent stretch of our unique fabric covers a range of body shapes and sizes.
If you have any queries on size please use our live chat or reach out to: contact@alexanderclementine.com
Wash at 30 and do not tumble dry!
74% Tencel™ (wood pulp)
19% Seacell™ (seaweed)
7% ROICA™ Elastane
Made in London.
AC x AW Pink Triangle Bra
$28.00
Regular price
$39.00
Reviews
"So comfortable and extremely soft
Firstly the bras are so comfortable and extremely soft. They give me a comfortable amount of lift without any painful digging in no underwire, no clasp digging into your spine constantly ! In the words of Ned Flanders 'It feels like I'm wearing nothing at all. The thongs are also of the same quality very soft, lovey thick waistband that doesn't dig in to my hips constantly or roll up and get twisted."
"SO pleased with my AC order
I pre-ordered AC's new set, the racer top and boxer in black, and got my delivery at the end of February. Since I received this set I actually ordered another one, in white, because I loved it so much. What a versatile set of underwear/yoga wear/sleepwear/thermal layer. It is incredibly soft, so warm and great quality."
"I have NEVER had undies this soft before!!!
I need ten more pairs! Amazing quality, love the color, and can't resist a sustainably sourced material and company!!"
"Super soft and comfortable
The bra offers way more support than I was expecting considering there is no wire/padding!"
"I was blown away by the quality of the fabric
It's so soft and stretchy, both the bra's and the thong's fits are amazing, I loved it so much I ordered other two sets a couple of days after to try out the other twisted blue bra with the coordinated thong and the lilac bralette with both coordinated thong and briefs. And although I usually *hate* bralettes, I loved this one so much I ordered another set. I'll literally buy any other collection they put out in the future, and hope they'll expand onto some other pieces of underwear too"
"The underwear is so sexy
And definitely some of the comfiest and softest thongs I've worn!"
FAQ
Made from SEAWEED?! Is it edible?! Does it smell like fish?!
Believe it or not, we get these questions A LOT. Our unique & incredibly soft fabric is made from seaweed but we can assure you it does not smell like fish and it is also nothing like the sushi seaweed you may be more familiar with. Infact, we describe it as a softer and more superior cotton. Simply put, our fabric has the same structure as cotton but is over twice as soft and uses 97% less water to make.
What does 'sustainable' mean?
We know this word is thrown around these days. To us sustainability is two fold - helping both people and the planet. We have chosen to work with suppliers who share our values and have a strong commitment to both people and the planet. This means everyone along our supply chain is paid fairly and every process that goes into making our garments is not detrimental to the environment. Also, the materials that go into making our fabric come from natural and renewable resources - seaweed and eucalyptus.
Packaging
All our packaging is either recyclable or biodegradable and completely plastic free. In fact, even our stickers are made from sugar cane so are completely biodegradable & our thank you notes are printed on seeded paper, meaning you can plant and grow your very own garden and help support the bees.
How do I wash my Alexander Clementine underwear?
To ensure you look after your underwear and keep it in the best condition possible. We recommend you wash at 30 and do not tumble dry. Our fabric is naturally quick drying and wicks moisture away from the body so won't take long to dry anyway!
Shipping
Fast + Free Shipping
Free shipping when you spend £70! We also ship internationally!
Order tracking
All our orders are sent with a unique Royal Mail tracking code so you can be confident when your order is on the way to you!
Get in touch
Any questions? Don't hesitate to reach out to: contact@alexanderclementine.com or use our live chat feature and we will endeavour to get back to you as soon as we can.